Past projects














EXERCICES DE COMPRÉHENSION /ACTION
Congreso Internacional Espaciar, La experimentación espacial en las instalaciones artísticas, 28.10.21 Venice



"Tra tutti questi luoghi, quelli che più mi interessano hanno la curiosa proprietà di essere in relazione con tutti gli altri luoghi, ma con una modalità che consente loro di sospendere, neutralizzare e invertire l'insieme dei rapporti che sono da essi stessi delineati , riflessi e rispecchiati. Questi spazi, che in qualche modo sono legati a tutti gli altri, che pertanto contraddicono tutti gli altri luoghi, appartengono a due grandi tipologie. Ci sono anche, e ciò probabilmente in ogni cultura come in ogni civiltà, dei luoghi reali, dei luoghi effettivi, dei luoghi che appaiono delineati nell'istituzione stessa della società, e che costituiscono una sorta di contro-luoghi, specie di utopie effettivamente realizzate nelle quali i luoghi reali, tutti gli altri luoghi reali che i trovano all'interno della cultura vengono al contempo rappresentati, contestati e sovvertiti; una sorta di luoghi che si trovano al di fuori di ogni luogo, per quanta possano essere effettivamente localizzabili. Questi luoghi, che sono assolutamente altro da tutti i luoghi che li ri- flettono e di cui parlano, li denominerò, in opposizione alle utopie, eterotopie; e credo che tra le utopie e questi luoghi assolutamente altri, le eterotopie, vi sia senza dubbio una sorta d'esperienza mista, mediana come potrebbe essere quella dello specchio" (Michel Focault, Utopie eterotopie -"I non luoghi")

Una riflessione sull'intimo infantile dei non luoghi di Foucault, "quali luoghi diventano speciali fino ad annullarsi da non es- sere classificabili perchè sono parte di noi, di un immaginario imperfetto intimo umano... Effetto di una costruzione mentale di un'associazione affettiva. scavando nei ricordi d'infanzia. Exercices de compréhension / action una "composta" di opere fotografiche, grafiche e di manomissione. Il protagonista, lo spazio, la sua potenza, la sua massa, il suo vuoto, quello che succede dentro e quello che è già successo e ci limitiamo a ricordare. Le riposte personali diventano opera, ma soprattutto esercitazioni, interpretazioni, dediche alle opere di alcuni maestri internazionali dell'architettura e dell'arte come Lissitzky, Baldewg, Parmiggiani e Oteiza.

Riadattamenti spaziali e prove utopiche di spazi mai esistiti, letture visuali che entrano nell'anima dello spazio, sono delle vere e proprie esercitazioni che conducono il pensiero artistico a prendere ogni volta una strada tracciata per essere reinterpretata attorno al concetto spaziale dei non luoghi, luoghi non palesemente abitabili esistenti o di passaggio ma anche luoghi personali prodotti dal ricordo, dal movimento nella fruizione di un piano come dalla luce stessa. Un piccolo viaggio nella potenza visive dello spazio "altro" della sua potenza e nella sua inesistente presenza fisica.





TOO BIG TOO SMALL
watch the video ︎︎︎



"Something that seems to happen but never happens" TOO BIG TOO SMALL was born after the performance STAFF ONLY. An eye is always looking from a small camera, in an action of spying. Waits for something to happen that never actually happens, exactly like in the cam girls world. The performance is inspired by the private unsuitableness everyone experiences when trying to be someone everyday.
Do you feel something is wrong? "Something that seems to happen but never happens" TOO BIG TOO SMALL was born after the performance STAFF ONLY. An eye is always looking from a small camera, in an action of spying. Waits for something to happen that never actually happens, exactly like in the cam girls world.





THE FALL X EVERYWOMANBIENIAL
Copeland Gallery London
12 June 2020 – 9 Juli 2021
(Artwork 200 X 150 print on Velvet, 1 Ed 2021)




DONT LOVE ME, BE FAITHFUL,THE FAL. From "the fall" by Albert Camus ,and some shoot by a short live video performance, made by women doing home care in sexy mise. The photos arrives from some error scenes, or wrong happenings during the video. the artworks were born by a mix of this crush. Camus write about the perfect life of a succesfull Man with a perfect carreer. He talks about women as a result of his facsinated body, he feels attractive and he want to be free but at the same time full of women. they are his desire objects, like a free pleasure guided by a promise. " DONT LOVE ME! JUST BE FAITHFULL! (so I can leave you one day..) from a high career one day the fall, but the fall goes also through women's life that fall every day in this kind of decision to be used, tometimes with a clear intension as he say. everyhing function from a good administration process.The fall, a kind of error inside the photos, inside the video that produced the shoots but also inside their life.






RIPOSTE
curated by Riccardo Rizzetto and J. Eden
January 2020 London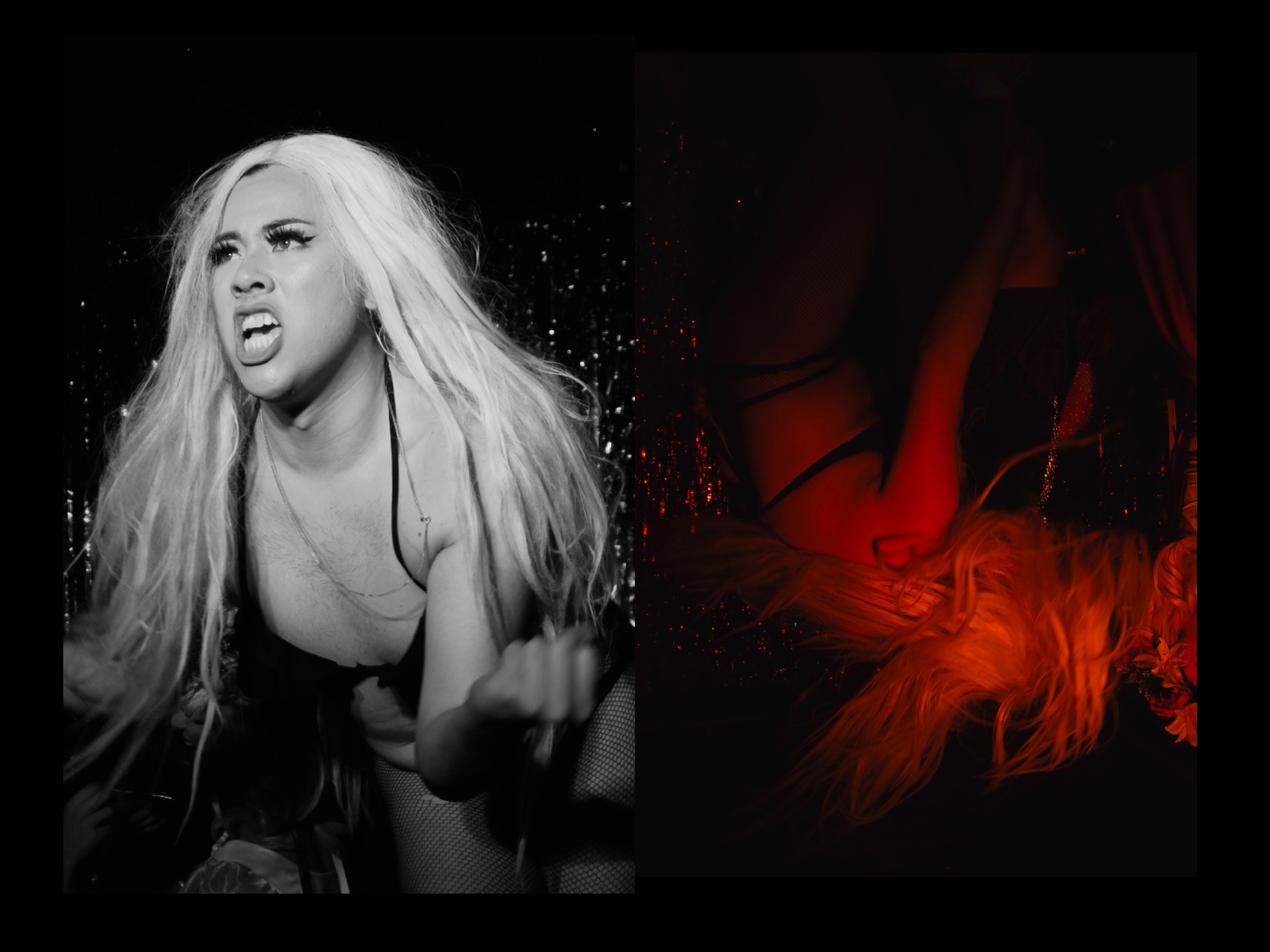 Matete Martini explores the moments of the self through the analysis of the human body, conceived as a generator of movements in the contemporary scenario. Her canvases are the result of an abstraction which starts from a deep photography and video based research, picking subjects from her everyday experience to then extract the moves as a reflection of an inner motion. On doing so, Martini establishes a dialectic between soul and body, moves and feelings, humans and spaces to rise queries regarding how we all do feel in the contemporary world.

(GLORY I 140 X 105 Linin fabric, GLORY II 156 X 109 Linin fabric, GLORY III 138 X 110 Linin fabric unframed and unstretched.)
Photos Cassandra, The Glory, London




PUBERTA' Daniel Benjamin gallery




This series of paintings and textile works take fungi and other natural elements as a starting point to explore ideas of human transformation and intersectionality. It reminds us of the VII Book of Ovid's Metamorphoses. In the epic poem, as soon as Medea, daughter of divine descent, arrives in Corinth, we are made aware that the people of the city have transformed from mushrooms into humans. In Pubertà (puberty), human bodies spring from fungi (Metamorphoses, 7.391) and impersonate rituals of initiation into adulthood. Curiosity, sexual tension, consummation, attention seeking and insecurity, invade every work in a parasitic way to the point of sensual pleasure.

Pubertà will also take the form of a video-performance (live show with actors April - 9). Echoing the same themes of transformation, intersection and transition, the performance will mimic a cam girl live - a celebration of sensual intimacy in everyday life.
- Maria Valeria Biondo





STAFF ONLY, Performance 9 April 2021


INCOMPLETO INFINITO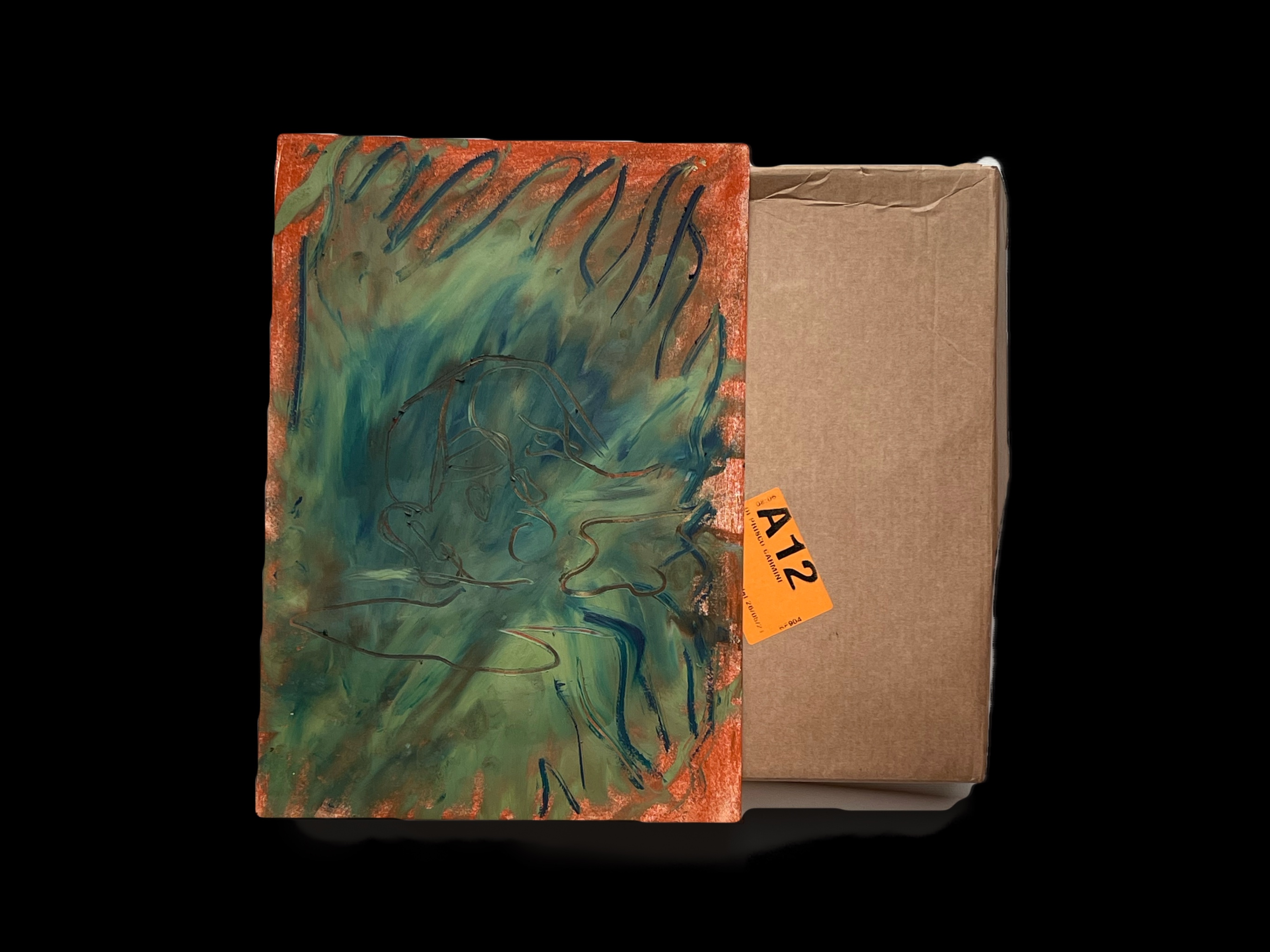 Progetto Incompleto Infinito. Matete, urged on by the wish of re‑analysing her relationship with the photographic medium, shares with us a tale made of cavities, explosions, solitude, love scenes and sexual encounters. The subjects of her compositions, herbs and fungi, become the medium of these experiments in photography/photographic experiments.



Merging autobiographical and fictive elements, the results are strong and balanced compositions that appear self‑reflective. Yet the use of image manipulation, essential in her artistic process, as well as the choice of keeping the human body present, expose her predilection for third party perspectives. As seen in ‑Margarita, 2020‑ the process of layering becomes more and more complex. One lever of layering is present within the photographic and graphic manipulation process. The other ‑ the human figure, and the growth of complexity of the lines ‑ is drawn directly by the artist on the canvas. This process gives birth to a third dimension inhabited by the digital, the analog and the recorded. Matete's visceral fascination with herbs and fungi originates from their shapes and their existence within everyday life situations and memories. It is, in fact, within a context of an intimate dinner that some of these works were conceived.

RAZZA DI AMBROSIA, "cartilaginea maleducazione". Barrio Aretè showroom


Un progetto custom-made per lo spazio Areté, che esalta il taglio trasversale d'approccio tra moda ed arte.
L'artista decide di ospitarvi una delle sue muse più enigmatiche, Ambrosia. Drag Queen ed artista, la cui pratica si sviluppa tra Napoli e Milano, portando in scena il suo fascino d'altri tempi insieme ad una visione contemporanea di tradizioni tutte italiane.
Questo però non è né un ritratto, né uno studio psicologico di Ambrosia ma, un invito diretto allo spettatore.
Ambrosia, non rappresenta una voluttà materna, che accoglie, è tutta nervi, fatta di angoli pericolosi. Il suo sguardo seduce ma fa paura, e la sua danza, cartilaginea, conquista e sottomette. L'istinto porta ad odiare questa donna, dopotutto è lei che ci lascia nel buio. - "CHE RAZZA DI FEMMINA!, che tu sia maledetta!". È un sentimento pericoloso, che annienta e autodistrugge.
LSI X LACUNA "I wouldn't see anything at all, but then I'd see it in joyful fragments"
8 Nov 2019 – 11 Nov 2019 London


In LSI Matete Martini explores the fragility of individualism thinking of new, queer possibilities where "We can do lots of things". Diverse mediums (painting, sound and video) are squeezed together to mock consumerist constructs and the art occupation as personal fulfilment. Matete Martini's paintings are saturated with associations to Italian futurism and pittura metafisica, carry criticism towards toxic masculinity and have strong references to queer culture. Dance and movement are central to this body of work, from the early stages of her research phase to the execution. M.V.Biondo


https://www.sottosaleprojects.com/lacunapressrelease